What are Citations?
Any mention of your business on a website is defined as a citation, it can be your business name, business address or a link to your website. It is important to note that a link is not required for it to be classed as a citation. You can usually find citations on website such as;
yell.com (The Yellow Pages)
cylex-uk.co.uk
thomsonlocal.com
hotfrog.co.uk
and will typically look like this;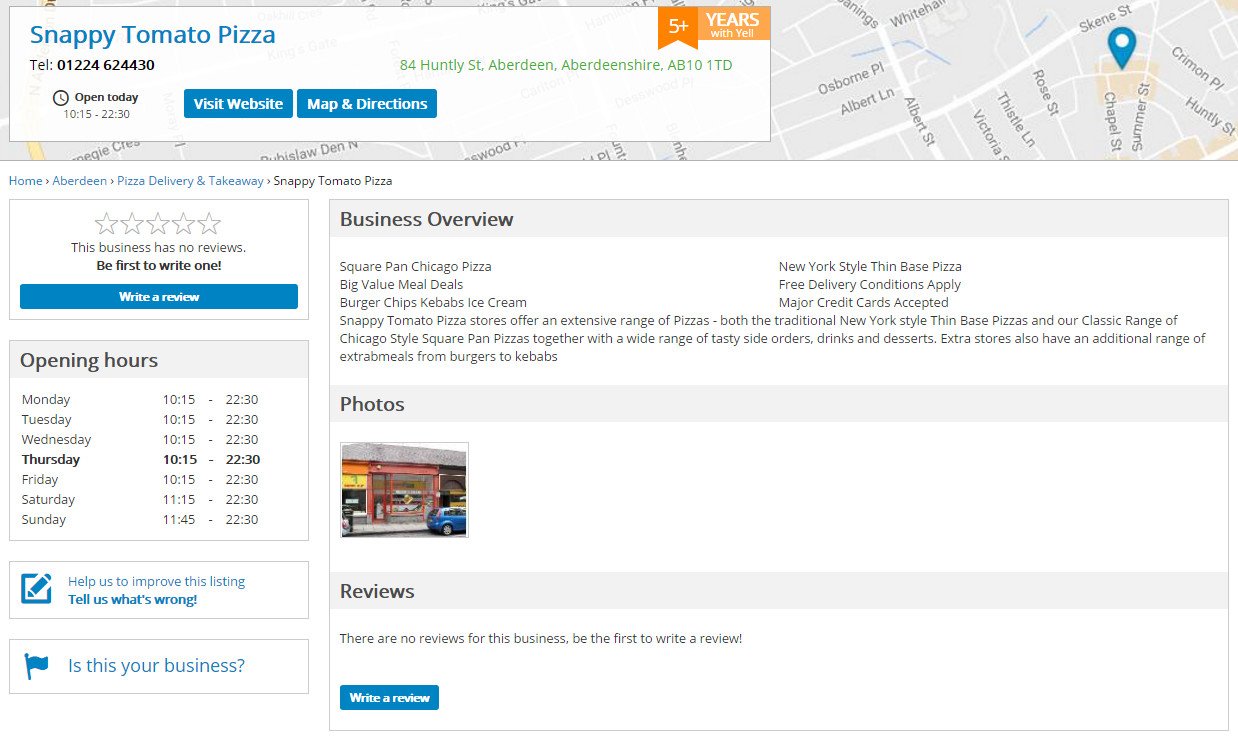 Why are Citations Important?
Citations are an important ranking factor for local businesses, the more times you business is mentioned on the internet the more trust is given to your website from Google. It proves that your business actually exists and that Google can confidently show your business or website when someone searches for "Pizza Glasgow".
Another important factor is that in smaller, less competitive niches like plumbing companies are a less likely to own a website. With many businesses relying on more traditional advertising methods such as; directories, print advertising or word of mouth.
This means that Google has to rely more on citations and other mentions online to prove a company's validity.
Where Can I Find Citations for my Business?
Google is your friend here but there are plenty of websites that offer a list of the top citation sites by country, like this one on search engine land.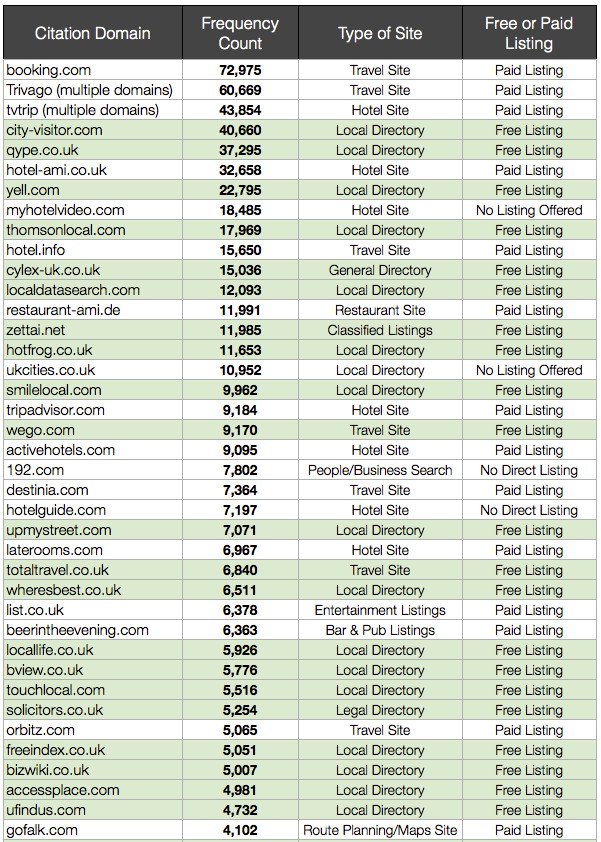 You can see the full list on their website: Top 50 Citation Sources For UK & US Local Businesses
As you can see from the table, most citation sites offer free listings but some are paid listings only. If you are a small local business, it's probably best to start out with free listing at first.
Tips When Creating Citations for your Website
When creating the citations for your website remember to be as accurate and detailed as you can with your listings. Include your businesses address, name, phone number, opening hours and descriptions for your business. The more information you give Google about your business the better.
Some citation sites offer reviews, reviews are important for your business and Google but if possible, it is best to try and direct customers to a specific place for reviews such as Google+ as these see more traffic. It is also better if your reviews are concentrated in one place rather than spread out over various citation sites.
Another benefit to having concentrated reviews is that it allows you, the business owner, to address feedback. Everyone will get negative feedback at some point and having somewhere where you can address such reviews and put your side of the story across is important.
Look for Quality Citation Sites
Not all citations are as valuable as each other, there are some citations that hold a lot more weight than others. It is worth more to have your business on the UK chamber of commerce site than on a spammy directory for example.
Instead of adding your website to every citation site you come across, try to stick to the more reputable citations sites, such as those in the table mentioned above.
Here is a good article on how to determine Citation Quality: How to Identify Quality Citation Sources
Further Resources
Why Use Local SEO? – Vision64
4 Misconceptions Small Business Owners Have When it Comes to SEO – Vision64
Does My Local Business Need SEO Services? – Vision64
Have you had enough of not attracting visitors to your website and fed up with lack of sales? We can help. I've helped hundreds of companies over the past 20 years acheive their goals. Feel free to call or contact me to talk it over.

Alan Twigg

Tel (UK): 0114 2999 259
E-mail: mail@vision64.co.uk
Contact Form