Why Sheffield is a Great Place to Start a Business
Sheffield, in South Yorkshire, is a lively and exciting city. Ideally placed in a central UK location, Sheffield has all the modern amenities and attractions that you'd expect from a major city, making it an ideal place to live and work. And for those who love the outdoors, it's also surrounded by beautiful countryside, including the Peak District National Park.

If you're looking to start a business, Sheffield is an attractive option. Not only will it provide your workers with a superb place to live, but Sheffield works hard to attract and support businesses of all types. Organisations such as the Sheffield Enterprise Agency, The Sheffield City Region Growth Hub, and the Sheffield Chamber of Commerce, all provide support for both existing businesses and start-ups, including advice on a wide range of matters, drop-in sessions, and training.

Sheffield Business Park is one of Yorkshire's largest business parks, set in a lovely rural location, yet with easy access to the motorway system and other transport links. There's a variety of different accommodation options available for setting up your business, as well as other facilities such as a nursery, cafes, conference suites, a hotel, and a bank. As part of the local Enterprise Zone, start-ups located here get Business Rates relief for five years and potential access to Enhanced Capital Allowances for investment in plant and machinery.

So what are the main features that make Sheffield such an attractive option for starting up a new business? There are many.
The City of Sheffield
Sheffield (population 569,700), has a long and honourable reputation as one of the foremost manufacturing centres in the UK. World-famed for its steel production which began in the 19th century, Sheffield was the home of many innovations, including crucible and stainless steel. The success of the steel industry contributed to a rapid population expansion during the Industrial Revolution, increasing over ten times.

But Sheffield is not remained stuck in the past. It has since repurposed itself into a modern city with a wealth of economic diversity, including manufacturing, tech and IT. It's one of the eight largest regional cities which make up the Core Cities Group (see below). This makes it an ideal city for starting your business.
Sheffield – A Diverse City
Around one third of the population of Sheffield is over 50 years of age, slightly less than the national average of 35%. Current population trends anticipate that the number of over-65s will increase by more than 46% over the next 25 years, with the percentage of over-80s doubling.

The overall population is also increasing, partly because there are more births than deaths in the city, and partly due to inward migration. It's estimated that the population will number around 633,000 by 2037.

Sheffield is also an ethnically diverse city, with almost 20% of its population being from Black or Minority Ethnic heritage. The largest ethnic group is Pakistani, but there are also significant communities from Bangladesh, The Caribbean, India, Somalia, Yemen and China.

Two universities also attract a large number of young people in the 18-24 years age bracket. Many choose to stay on the city after completing their studies, giving Sheffield a large pool of skilled workers to draw on for companies starting up.

It's anticipated that this diversity will increase still further over the coming years.
The Core Cities Group
Sheffield is a member of the Core Cities Group, a 'collaborative advocacy group of larger regional cities' committed to working together for greater joint advancement.

The other cities in the group are:
Birmingham
Bristol
Cardiff
Glasgow
Leeds
Liverpool
Manchester
Newcastle
Nottingham
Quality of Life in Sheffield
The cost of living in Sheffield is broadly in line with the cost of living in other UK metropolitan areas outside of London.
Housing
Sheffield has a mix of rented and owner-occupied properties.
Average House Prices
The average price of a semi-detached house in Sheffield in 2017 is £172,790, and £142,910 for a terraced property. A detached house has an average price of £309,560. House prices increased by around 4% in 2016.
Rental Market
Naturally, rents vary across the city, with some areas being significantly more expensive than others.
Rental Rates in Expensive Areas
According to Expatistan, the monthly rent for an 85 m2 (900 square feet) furnished property is about £1,113, while furnished accommodation in a studio flat (45 m2 / 480 square feet), costing around £542 per calendar month.
Rental Rates in Average-Priced Areas
Monthly rent for a larger property in an expensive area is in the region of £632, with a studio flat costing around £567.
Utilities
One month's utility bills, including heating, electricity and gas, for two people in a larger property (85 m2) totals around £119, with bills for one person in a studio flat costing about £121 per month.
Household Items
Costs for standard household items are in line with elsewhere in the UK. For example, a 40-inch flat screen TV costs £350, an 800/900W branded microwave (e.g. Bosch, Panasonic), costs £57, and the price for laundry detergent is £4.69 for 3 litres.
House Cleaning Rates
The standard hourly rate for hiring a house cleaner is £10.
Food Costs
Groceries
The average costs for common household grocery items are:
500g of boneless chicken breast: £3.69
1 litre of whole fat milk: £0.77
12 large eggs: £2.47
1 kg of tomatoes: £2.11
500g of local cheese: £3.77
1 kg of apples: £1.79
1 kg of potatoes: £1.22
0.5L of domestic beer in the supermarket: £1.55
1 bottle of good quality red table wine: £9
2L of Coca-Cola: £1.82
Bread for 2 people for 1 day: £0.65
Eating Out
There's a variety of places to eat out in Sheffield, including high class restaurants, popular fast-food outlets, and many smaller restaurants offering a wide range of authentic world cuisine menus.

A basic lunchtime menu in the centre of town will cost about £8 per person, including drinks, with an evening meal at a neighbourhood pub costing around £18. A three-course dinner for two (including wine) at an Italian restaurant will cost in the region of £50.

A combo meal in a fast-food restaurant (e.g. Big Mac Meal or similar), is about £4.55.
Clothing
The Meadowhall shopping centre has many popular clothing retailers, including Diesel, Dorothy Perkins, Next, Zara and H&M. A branded pair of jeans costs around £65, a summer dress £28, branded sports shoes (e.g. Nike, Adidas), cost £52 and a pair of leather business shoes (men's) cost £53.
Transportation
Sheffield has excellent transport links, including access to the local and national rail network, buses, and a modern tram system. A monthly public transport pass is priced at about £50.

Local taxis are another transport option. A 5-mile taxi fare is priced at approx £16.

There is easy access to the motorway network, making it quick and simple to get to other locations both locally and nationally.

Although Sheffield doesn't have its own airport, it's within reach of two international airports. Doncaster Sheffield Airport (formerly Robin Hood Airport), is about 30 miles from the town centre. The journey time is approximately 40 minutes by road via the M18, and travel by rail takes about 70 minutes. Manchester Airport is about 44 miles away, with the journey taking up to 90 minutes by road and about 75 minutes by rail using the Trans Pennine Express.
The costs for private transport are similar to those in the rest of the country. For example, a car such as the Volkswagen Golf 1.4L TSI 150 CV or similar will cost about £17,000. A litre of petrol costs around £1.15.
Entertainment
Sheffield has a variety of entertainment opportunities, including many aimed at the younger age range due to the high number of students.

A night at the cinema for two will cost around £17, with top-range seats to the theatre costing £44.

There are plenty of places to enjoy a drink in the city, with options ranging from a cappuccino in a coffee shop (£2.60), a beer in the local pub (£3.53 a pint), or a cocktail in a downtown club (£6.00).
Digital and Broadband Connectivity in Sheffield
The recent years have seen a significant investment into providing superfast, reliable broadband, especially for business customers. This is seen as one of the key elements in providing an effective environment for both small and large businesses to flourish.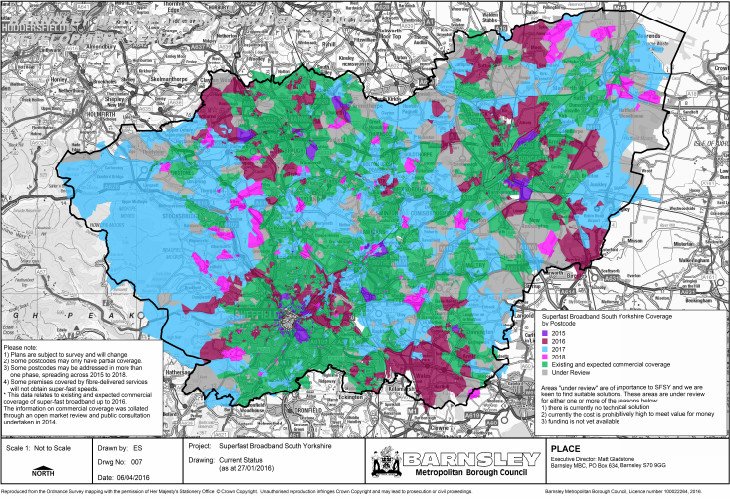 Fast broadband is readily available in the city centre, although currently Virgin Broadband is the only option available in many spots, meaning there's little opportunity to take advantage of competing offers to get the best value for your business.

Areas on the outskirts of town may not be so well served with fast broadband connection at present, although plans are in hand to ensure expansion across the whole metropolitan area in time.
Speeds and Availability
Virgin Media offer a maximum connection speed of 25Mb on a 50Mb package, but of course, this is not a guaranteed connection speed – you may find you're unable to get the highest advertised speeds for at least some of the time.

In the southern stretch of the S9 postcode, Virgin offers a full range of broadband packages, meaning that this area has one of the highest average speeds in the city. However, other nearby regions within the S9 code only have ADSL connection, with a maximum speed of 17Mb. However, realistically, the connection in this area is only likely to reach a speed of 10Mb.
Future Development of Broadband Connectivity
Plans are in hand to greatly increase the attractiveness of broadband provision in Sheffield, and indeed in the whole of south Yorkshire.

In September 2014, South Yorkshire began a collaboration with BT to provide high-speed, fibre-optic broadband to 98% of homes and businesses across the county. This multi-million pound project is intended to make South Yorkshire a prime place to live and work. It's expected to attract significant new investment into the area, as well as giving an economic boost to the region to the tune of £270 million.
Current Economical State of Sheffield in 2017
Business Landscape & Startups
Over 2,200 new businesses were established in Sheffield in 2015. This represents a ratio of 6.1 startups per thousand of the working age population, which is around one third lower than the national average of 9.93. In fact, Sheffield had a relatively slow growth rate for small businesses compared with the other Core Cities, ranking as the city with the third slowest growth rate of new start-ups. This trend has been a continuous feature since 2010.

However, new businesses in Sheffield are among the most resilient, with the third lowest rate of business closures in the Core Cities. In particular, Sheffield is gaining a reputation as a centre for innovation. The only Core City with a higher number of patents granted in 2014 was Bristol.
Why Sheffield Needs More Startups
Sheffield has a high reliance on small and medium-sized enterprises (SMEs) compared with other cities, so the city is determined to be a vibrant location that provides all the necessary support and infrastructure to enable this kind of business to thrive. Start-ups are seen as key to this.

Currently, 18% of Sheffield's businesses are in the retail and wholesale sector, with 86% of these employing fewer than nine people.

The third largest sector is the construction industry, but these are mostly very small companies – 93% of them employ a maximum of ten people.
Economic Growth
Since 2011, Sheffield has had the 4th fastest growth in gross value added (GVA) out of all the Core Cities. Its GVA per head remains the lowest of the Core Cities, reaching £19,833 per head compared with a £25,601 national average), but only the larger cities of Birmingham, Bristol and Manchester grew at a faster rate.
How Does the Future Look for Growth in Sheffield?
The Sheffield Economic Growth Strategy sets out plans for Sheffield's continued growth. It's currently believed that Sheffield's business is operating below capacity, with a prosperity gap of £1.6 billion compared with the national picture. The strategy sets out six economic objectives, together with specific targets to be achieved by 2020.

These six economic objectives are to develop:
Distinctive and High-Performing Sectors
A Dynamic Private Sector
A Skilled and Productive Workforce
Future-Proof Infrastructure
An Inclusive Economy
A High Profile City Brand
The document analyses the current situation in Sheffield, identifying its strengths such as its cultural assets, existing industries, world-class universities, and major events which attract visitors and residents alike. It also sets out milestones towards the ultimate achievement of its six economic objectives, together with detailed plans for their implementation.
Digital and Creative Industry
One of the most significant areas of success for Sheffield start-ups has been the growth of businesses focusing on digital and creative industries. To promote this burgeoning sector, there is now Sheffield Digital, an organisation for 'businesses and individuals involved in Sheffield's digital industries', support such businesses in connecting with each other, promoting their services and enabling them to speak with one voice.
Sheffield's Workforce
As with many other British cities, Sheffield has a wide and diverse workforce, making it a prime location for start-ups looking to hire skilled and competent workers.

Millennials make up almost 30% of the workforce – their youthfulness and enthusiasm give Sheffield a vibrant and lively atmosphere. This generation has the skills and attributes needed for modern, adaptable workers. The two universities have been greatly instrumental in encouraging this influx of younger generation workers – students come here to study then stay on to work. Overall, the 3% growth rate in the millennial population is greater than that of the UK average and is broadly in line with that of the Core Cities.
Sheffield's Workforce – Education
Around 36% of Sheffield's workforce are educated to NVQ Level 4 (undergraduate level) or above. This is in line with the national average, but below the level of other Core Cities. However, the number of jobs requiring this level of education is fewer than those seeking such jobs.

This fact, plus the relatively high percentage of lower skilled workers in the city, has resulted in Sheffield having the third lowest average salary of the Core Cities (£26,834), significantly lower than the national average of £28,213.
However, between 2011 and 2016, wages in Sheffield increased by 11%. This is higher than the national average of 8%, and the second biggest increase among the Core Cities.
Employment and Economic Activity
Statistics show that almost 70% of Sheffield's citizens are in employment, a level greater than before the recession. The 2016 Sheffield Economic Bulletin cites 10.3% of these as being self-employed, meaning that 12,300 more people are self-employed than in the previous year. While some of this may be attributable to Sheffield's entrepreneurial spirit, some is undoubtedly also due to the lack of suitable jobs as mentioned previously.

Zero hours contracts are also a feature of Sheffield's employment landscape, as indeed they are nationally. Between 2015 and 2016, the percentage across the Yorkshire and Humber region increased from 2.1% to 3.4%, a significant increase.
The Sheffield City Region Quarterly Economic Survey 2017
The Sheffield City Quarterly Economic Survey is a key source for information regarding service and manufacturing industries in the Sheffield region. Hundreds of companies in the local area participate in a quarterly survey, enabling a clear and current economic picture to be created. Information from the survey also allows decision-makers (local, regional and national), to make informed choices about how best to support Sheffield's continued development as a key business hub.
UK Sales
The SCR survey shows that both the service and the manufacturing sectors are reporting increased sales. When looking at year-on-year performance, the service sector showed a slight decrease in sales, whereas manufacturing enjoyed markedly increased sales.
Cash Flow
Both sectors reported a minimal decrease in cash flow during the previous three months. Manufacturing had reached an improved position when compared with the same time a year previously, but the service industry was worse off than the year before.
Orders
Orders in both sectors had shown an increase during the previous quarter. Once again, the year-on-year analysis showed a difference between manufacturing and service: confidence regarding increased orders was lower in the service sector than in manufacturing, which reported a large increase.
Turnover
Both sectors were predicting increased turnover, especially when compared with results from the previous quarter. This was also the case with year-on-year results, with both areas reporting an improved position from the same period one year previously.
Profitability
Following two consecutive quarters of downward trends, both sectors were predicting an increase in profitability for the next quarter, as well as an improved position from 12 months ago.
Important Issues Affecting Sheffield Business in 2017
There was a clear difference between the sectors concerning the important issues facing their businesses. When asked about factors that had increased in importance over the previous quarter, the manufacturing sector cited business rates and exchange rates as the most pressing concerns. The main issues confronting the service industry were reported to be government spending cuts and the triggering of Article 50.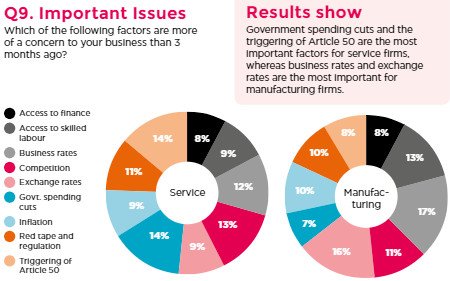 Overseas Activity
Both sectors reported increased export activities during the previous three months. Manufacturing also showed a marked increase in overseas activity, sales and custom from the same time the previous year, while the service sector had a decrease in activity.
Price Pressures
The sectors were also asked about price pressures from pay settlements, raw material prices, finance costs or other overheads. The manufacturing industries cited pressure primarily from the cost of raw materials, whereas the service sector was feeling the squeeze from other overheads.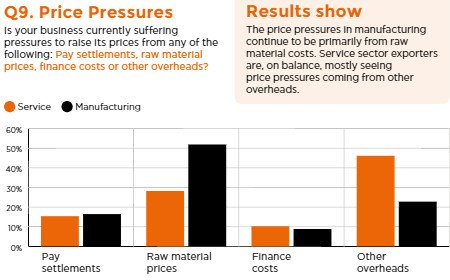 Factors of Concern for Businesses in Sheffield
Perhaps unsurprisingly, both sectors felt that issues around exchange rates had become the most pressing issue during the previous three months, followed by changes to business rates. The manufacturing sector also reported worries about access to skilled labour as a top factor, with service companies concerned about the triggering of Article 50.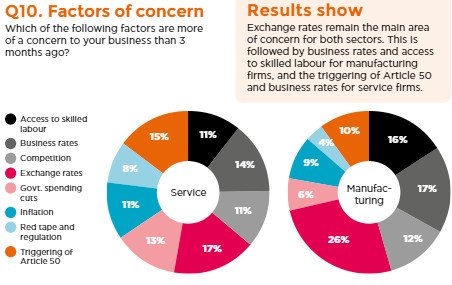 How will Brexit Impact on Sheffield's Business?
The Quarterly Economic Survey showed that businesses in Sheffield are divided on the potential impact of Brexit.

Most felt the change in the value of the pound is likely to have an impact on their operations.

Over half of companies surveyed indicated that the referendum result had not had an impact on their investment decisions, although this could be because the impact may have already been factored in. But a substantial minority did feel there had been some influence.

Most companies did not feel that Brexit would affect their hiring decisions, but were more concerned that the government addressed the value of the pound and ensured that it got a good deal when negotiating trading agreements with EU countries.
Conclusion: Why Sheffield is a Great Place to Start a New Business
There are a number of reasons why Sheffield is such a great place for those seeking to establish a strong and successful company.

Firstly, the costs of living in Sheffield are lower than in many other southern areas of the UK, as evidenced by the cost of housing, rental rates, and many other retail costs.
Sheffield businesses are renowned for their resilience – it has the third lowest rate of closures across the Core Cities, the second highest ranking for patents granted, and a strong performance in innovative and creative business models.

This is also a city that is growing. It has the 4th fastest GVA of any Core City since 2011.

A young and enthusiastic millennial workforce makes it a prime spot for securing skilled workers with a positive and determined mindset, all factors that are essential when getting a new business off the ground.
Sheffield is a thriving city with much to offer those who live there. It has excellent transport links, modern facilities for shopping and entertainment, and a diverse population.

In conclusion, Sheffield not only provides a potential workforce with a great place to live and work, but also provides strong support to established and start-up companies, alongside a clear and purposed plan to develop the city into a leading hub for business.
Sources
Population in Sheffield - Sheffield City Council
House Prices in Sheffield - Right Move
Shops in Sheffield | Meadowhall Shopping Destination
Local Public Transport - Maps and Travel Advice - Visitors - The University of Sheffield
Welcome to Sheffield | Business Sheffield
Start a New Business | Sheffield Enterprise Agency
Sheffield City Region Growth Hub | Business Support
Business Support - Sheffield Chamber of Commerce
Work in the Future | Sheffield Business Park
Train Tickets | TransPennine Express
Survey Shows Mixed Reaction to Brexit | Sheffield City Region
Starting a Business in Sheffield | Startups.co.uk: Starting a Business Advice and Business Ideas
Sheffield - Wikipedia
Hourly Salary Information in Sheffield, South Yorkshire on Totaljobs.com
Cost of Living in Sheffield. Updated Prices May 2017 - Expatistan.com
Broadband In Sheffield | Local Speed Data, Availability & Providers - Superfast South Yorkshire
Where and When - Superfast South Yorkshire
Quarter 1 -2017 - Sheffield City Region Economic Survey
Vision64. SEO for Sheffield