Category: Facebook Marketing
Social media is much more than a passing fad. Any company that is interested in improving its brand recognition and increasing brand loyalty needs to be able to leverage the power of social media and learn how to do so in a systematic and sustained fashion.
Why Does my Business Need a Social Media Presence?
Marketing professionals have recognised the importance of engaging with social networks for some time now. In 2014 a survey by the Hubspot blog reported that ninety-two per cent of marketers believed social media was important for growing their business, up from eighty-six per cent the previous year.
Hubspot's survey also spoke to companies who had been social media marketing for at least a year and found that sixty-nine per cent of them felt it provided valuable marketplace insights and had helped them to builds a loyal customer following.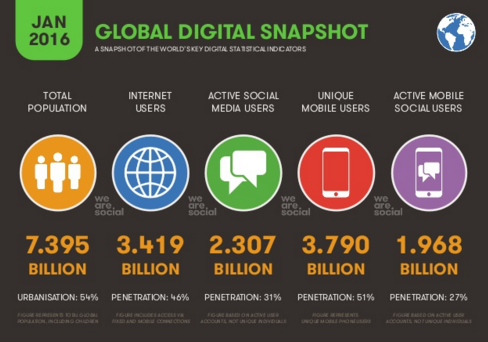 Source: Smart Insights
By adopting a planned approach to building your company's presence on social media you can take full advantage of one of the most powerful tools available to improve your brand's online visibility. By creating a presence across a range of platforms it is possible for your business to engage more fully with existing customers and to make itself more accessible to potential new customers.
Companies who succeed in growing an authentic presence across a range of social media platforms also increase their opportunities to achieve customer conversions. Social media helps businesses to 'humanise' their online presence which, in turn, encourages higher conversion rates. After all, the vast majority of people prefer to do business with other people rather than with an anonymous corporation.
What are the Advantages of Using Social Media?
The reach of social media is huge. Figures compiled by ComScore in January 2016 indicate that some 2.3 billion people worldwide engage with some form of social media. This represents thirty-one per cent of the world's population and is a ten per cent increase on the previous year's figures. The most significant growth areas are East Asia and South Asia, which not surprisingly are the parts of the globe that also include the world's fastest growing economies.
A study by the company Convince & Convert found that fifty-three per cent of people surveyed in the United States who follow brands on social media class themselves as more loyal to those brands than people who do not. Potential customers are often more likely to give credence to the opinions of fellow social media users than the claims of traditional advertising campaigns.
Facebook still dominates among the economically important millennial generation in terms of both penetration and engagement. Snapchat is doing well amongst this demographic too, particularly with regard to monthly usage.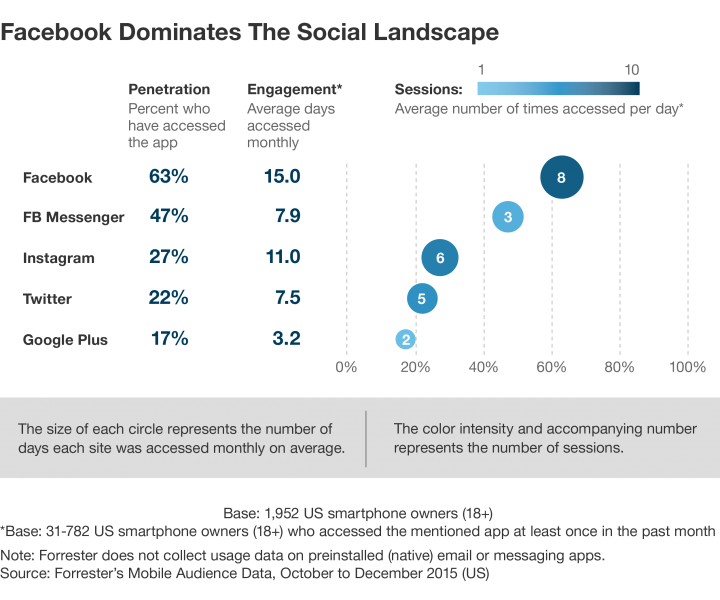 As a marketing tool social media is significantly cheaper than traditional advertising and it can help a business to achieve increased customer exposure. Social media provides an environment which is instantly responsive and its reach is all-pervasive. Companies with a developed social media presence can respond quickly to trends and changes of mood in the market thereby increasing their levels of engagement with both customers and potential customers.
Social media allows you to speak to your customers individually, but in the context of a forum seen by many thousands of others. Thus, when you respond swiftly and positively to complaints, comments or compliments from customers your company will be seen in a favourable light by other, potential customers.
When you regularly interact with customers in a public social media forum you demonstrate that you have faith in yours customers and belief in your product or service. This in turn can help you achieve a higher brand authority making you a trusted voice in your specialist field.
What are the Most Popular Social Networks Worldwide?
As one might expect, the latest figures show that Facebook, Twitter and Instagram continue to be popular on a worldwide basis. Facebook in particular leads in terms of active users as well as with the frequency of engagement by those users.
ComScore's data shows that the fastest growing social networks in in 2014 were Pinterest, Tumblr, Instagram and LinkedIn. This trend looks likely to continue for the foreseeable future. The same report also shows an interesting similarity of usage across different age groups, which suggests that societal engagement with social networks has reached a stage of maturity.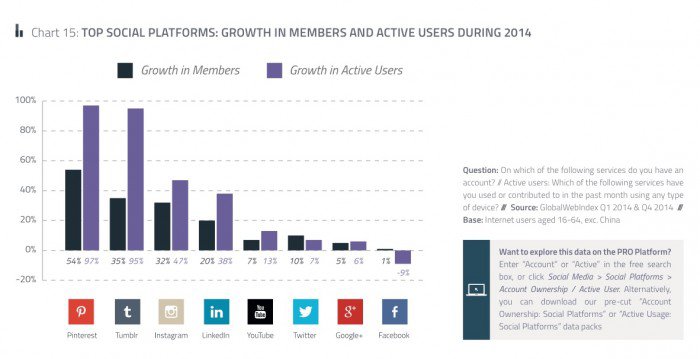 This presents opportunities for marketing professionals to reach a wide range of age and gender groups. The only notable exceptions to this trend, according to ComScore's research, are Instagram and Tumblr which are still primarily forums used by younger people.
Increase Your Web Traffic
Facebook is a particularly useful tool for driving traffic to your company's website by means of organic posts and sponsored posts on your news feed. Instrumental to increasing traffic to your business website is to have links on your social media pages.
Increase Engagement
There is a direct link between the level at which people engage with your business on social networks and the volume of your sales: people like to buy from companies they know and have learned to trust. People do not just read your social media pages but they engage with them in an interactive sense. This builds up familiarity and consolidates trust which in turn leads to a rise in sales.
How Do I Increase Engagement with my Social Media Pages?
Ask questions – questions are a good way to engage with your followers by sparking a discussion and encouraging responses and starting a dialogue. You can also stimulate engagement by 'crowdsourcing' forum answers.
Timing – the timing of when to post on social media needs careful planning. As a general rule you should avoid updating when most of your target audience are asleep or at work. Fortunately, extensive data is available to guide you in the timing of your posts.
Images – pictures and other images are one of the most compelling ways to grab attention and build engagement and are much more effective than simple text. A good picture gives a short, sharp and easily-digestible message.
Frequency of posting – there is research evidence that suggests there is an optimum frequency of posting for promoting engagement. According to data provided by Buddy Media, posting once or twice a day provides a better rate of engagement than bombarding your audience with more frequent updates. In this regard quality is most definitely superior to quantity with one or two daily updates scoring up to forty per cent higher user engagement than three or more daily posts.
Call to action – Your business needs an engaged audience as opposed to a passive one. Wherever possible issue your public with a 'call to action' in each of your posts.
Why Should I Use a Social Media Management Agency?
So once you have decided that your business needs to take customer engagement through social media seriously, you have two choices for how to proceed. You can either mange your social media strategy in-house, or you can engage a professional agency to guide you. Both options have a number of pros and cons.
Social Media Agency: Advantages
This is a specialist field, social media agencies can bring into play knowledge and experience you are unlikely to have within your business.
As an outside party an agency can evaluate your company's needs in a completely objective fashion and with preconceptions or existing agendas.
A specialist agency can offer quick action and quick results as, from experience, they already what works and what does not work.
Starting from scratch with an in-house campaign is a very steep and challenging learning curve that can lead to a number of errors and false starts. An experienced agency can avoid these pitfalls and provide better value for money and a quicker return on your investment.
Social Media Agency: Disadvantages
The chief disadvantage of hiring an agency is the initial cost. Rates will vary but it is often the case that costs will start to pile-up before you begin to see a return.
In cases where your company provides a niche product or service it may be difficult to find an agency with sufficient understanding of your industry, and in particular the niche concerns of your customers.
If you hand all of your social media marketing to an agency and do not at the same time begin accumulate any knowledge and experience in-house, you may find yourself floundering should you and your agency ever come to a parting of the ways.
Whichever route you choose to take for your company you will need to make a careful evaluation of the pros and cons and take a systematic approach to selecting the right agency for the particular needs of your business.
What will a Social Media Management Agency do?
The agency you contract with will assess your social media marketing objectives and make a number of proposals. These will include:
Setting up new accounts – the agency will set up accounts on Facebook, Pinterest, Twitter, Google+ and any other social media platform appropriate to the needs of your business. If you already have accounts they will tidy up the look of your pages with new logos, headers, links and graphics and a clearer structure so that customers can quickly find exactly what they are looking for.
Managing the account – your agency will develop an ongoing social media strategy with the aims of your particular business in mind. They will post regular updates designed to interest and engage with your customers and potential customers and may also run adverts and like campaigns to build your social network following. In addition to posting regularly the agency will interact with your audience and, answer questions and encourage discussions.
How Much Will a Social Media Management Agency Typically Charge?
Every Facebook agency has its own individual pricing structure and, essentially, the scale of charges will be dependent on the type of service you specify. However, below are some examples of what is on offer from online social media agencies.
Get Manic
Get Manic offer businesses a choice of three levels of package: Gold, Silver and Bronze.
Bronze – has a £300 set up for Facebook, Twitter and Google+ accounts together with one hundred targeted likes. There is no rolling contract.
Silver – includes a £300 set up fee for Facebook, Twitter and Google+ and includes one hundred targeted likes. In addition £150 per month will give you two Facebook posts per week and three Twitter tweets each week.
Gold – comprises a £300 set up cost for Facebook, Twitter and Google+ as well as one hundred targeted likes. An additional £250 per month will give you four Facebook posts per week and five Twitter tweets every week.
Yogurt Top Marketing
Yogurt Top Marketing charges a one-off set-up fee of £350. Ongoing charges of from £250 per month will give you company access to:
Social media channel creation, refurbishment and verification, where appropriate;
Cover picture creation; and
A bespoke social media strategy.
How do I Find a Reputable Social Media Management Company?
So, having decided that your business needs the services of an experienced agency to help you transform your social media presence, how do you go about finding a reputable company? There are a number if considerations to bear in mind:
Reputation – try to find out as much as you can about the social media management companies you are considering. You should certainly read independent reviews and ask for testimonials. Also, do not forget to harness the power of word of mouth reputation by asking trusted business colleagues and acquaintances for their opinions.
References – any social media management company worth considering should be able to provide references from satisfied customers. Read these carefully and ask for an update if they are not recent. You should also do an online search of the social media pages of companies the agency works with. See what you think about the look of the posts and the levels of customer engagement they seem to stimulate. Do not hesitate to ask for bottom-line figures on the success of any campaigns the agency claims credit for.
Get quotes – do not proceed without obtaining specific quotes showing exactly what you will get for your investment. Specify the format you require for these quotes so that you can compare like-for-like with different agencies.
Discuss – you should spend time talking to all of the companies you have under consideration. You need to know if their values and working methods match those of your business and if they are the type of people you can work with for a sustained period of time; your gut instinct is a powerful indicator of the likelihood of your being able to do so.
Doing What you're Best at
Choosing the right social media management company is an important decision, in fact it could have a substantial impact on the future success of your business. Be systematic in your approach and take the time necessary to make the right choice for your company. You can then get on with what you do best, which is running your business.
Further Reading
Smart Insights – Global Social Media Statistics Summary 2016 – https://www.smartinsights.com/social-media-marketing/social-media-strategy/new-global-social-media-research/
Kiss Metrics – 8 Surefire Ways To Increase Engagement Facebook – https://blog.kissmetrics.com/increase-engagement-on-facebook/
Social Media Marketing: Should You Hire an Agency or Keep it In-House? – Search Engine Journal – https://www.searchenginejournal.com/social-media-marketing-hire-agency-keep-house/85807/
Facebook Marketing Company | Social Media Marketing – http://www.getmanic.co.uk/social-media-marketing/
Yogurt Top Marketing – Social Media Packages – http://www.yogurttopmarketing.co.uk/Social-Media-Packages.pdf
How to find a reputable SEO company in the UK – Vision64 – https://www.vision64.co.uk/more-reading/everything-search/reputable-seo-company.html
Other Social Media Management Agencies
BORN SOCIAL – Leading Social Media Marketing Agency
BORN SOCIAL are a team of social media specialists. We help brands and businesses – of all shapes and sizes – leverage the social web effectively!
Social Response – Social Marketing & Digital Marketing Agency Bristol
Bristol based digital marketing agency offering social media management, User Generated Content campaigns, UGC competitions, advice and digital marketing support.
Immediate Future | Social Media Marketing
immediate future is an independent social digital consultancy working with household brands from Fujitsu to lastminute.com. Social specialists for over 12 years.
Social Media Stream // Social Marketing Agency Manchester
Social Media Stream a Digital Marketing Agency providing best in class Social Media, SEO, Email Marketing, Paid Advertising & Content Marketing services.
HIT Social Media | UK Social Media Management
We are a well established UK Social Media Marketing Agency, specialising in helping small to medium sized businesses – always with fantastic results.
OST – Social Media Advertising& Digital Marketing Agency
A specialist social media and digital marketing agency based in Cambridge, providing specialist marketing, advertising, management and measurement services.
Have you had enough of not attracting visitors to your website and fed up with lack of sales? We can help. I've helped hundreds of companies over the past 20 years acheive their goals. Feel free to call or contact me to talk it over.

Alan Twigg

Tel (UK): 0114 2999 259
E-mail: mail@vision64.co.uk
Contact Form
If you are small local business, having a business Facebook page is a great and inexpensive way of promoting your services and products to the masses. If you've been on Facebook a while, you will have no doubt noticed some pages or profiles have ticks next to their names. A blue tick signifies the authenticity of a public figure, a global brand or a media company, such as Stephen King, Nike and The Financial Times.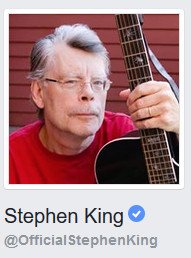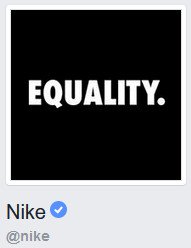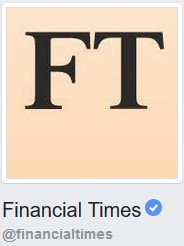 A grey tick signifies the authenticity of specific locations for businesses or organisations.

What is the Benefit of Verifying your Local Business on Facebook?
The main benefit of verifying your page is that it tells people that your Facebook page is legitimate. If anyone creates an imposter page or tries to imitate your business on Facebook for any reason, users can be sure that your are the real page by the tick. Along with letting users know your business is legitimate, it also adds credibility to your business page and your Facebook page will rank higher in the search results.
How to Verify my Business Page
First of all you need to go to your Facebook page and click on the settings menu item.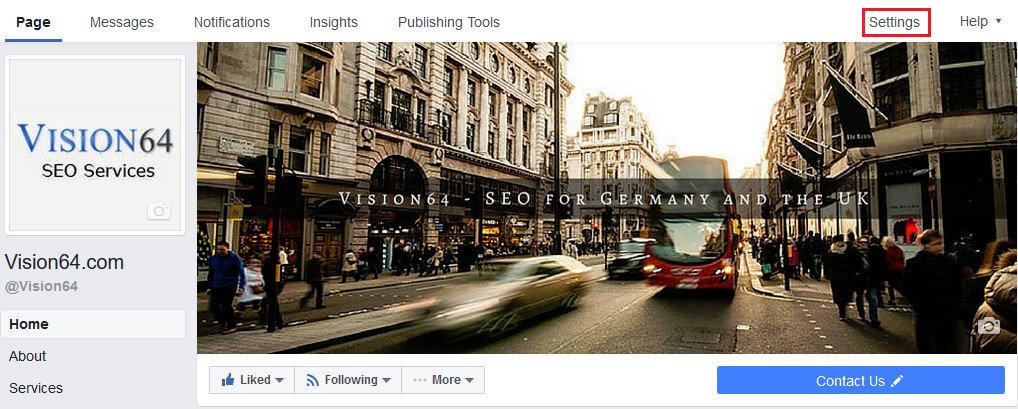 Once you are in Settings, you will see an option called "Page Verification".


Once you click on edit you will see a setup page that will ask you to use a phone number or documents to verify your page.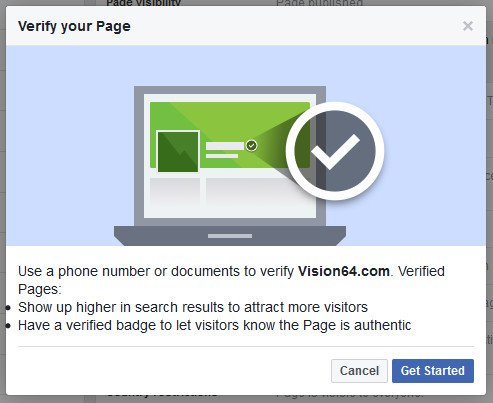 Once you've added your business number, country and call language Facebook will ring you with a 4 digit verification number.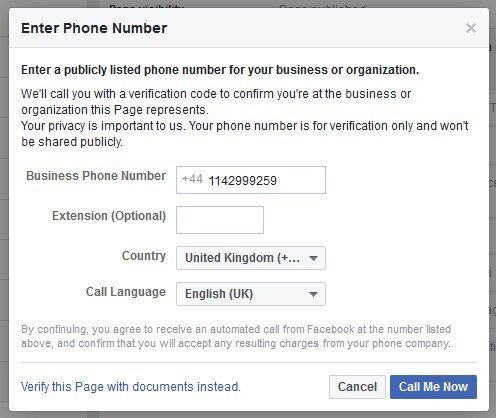 Once you've entered the 4 digit number, then you will receive a congratulation page. If everything went as it should, if you go to your Facebook page you should see a grey tick next to your name.
Conclusion
Although it may only be a little thing, anything that adds credibility and a layer of authenticity to your Facebook page is important. Ease of mind for customers is invaluable and being able to rank higher always a plus so take a few minutes to verify your business today.
Resources
How to Verify a Facebook Page for a Local Business – Social Media Examiner
How do I verify my Page? – Facebook
New: Facebook Is Rolling Out Verified Badges For Local Business Pages – Marketing Land
How Can Facebook Help my Small Business? – Vision64
How to Find a Reputable Facebook Business Management Agency – Vision64
Are you looking for help with setting up a Facebook page for your business. Whether you want help with Facebook Advertising or with your Facebook page, we can help. Feel free to get in touch.

Alan Twigg

Tel: 0114 2999 259
E-mail: mail@vision64.co.uk
Contact Form
For local or small businesses, especially those with a small marketing budget, Facebook can be an invaluable tool in promoting your business or services to potential customers.
How Can Facebook Help Me?
If you are a new business or haven't been in business very long, your website probably won't be ranking very well on Google for any of your search terms.
This is a problem, Since according to Net Market Share: Google accounts for over 76% of all global desktop search traffic and 94% of all mobile/tablet search traffic globally. If people aren't finding your site on Google, they aren't seeing your business or your services.
This is where Facebook comes in handy, as according to eMarketer, In 2016, an estimated 50.5% of UK residents—33.2 million users—will log on to that social network at least once a month.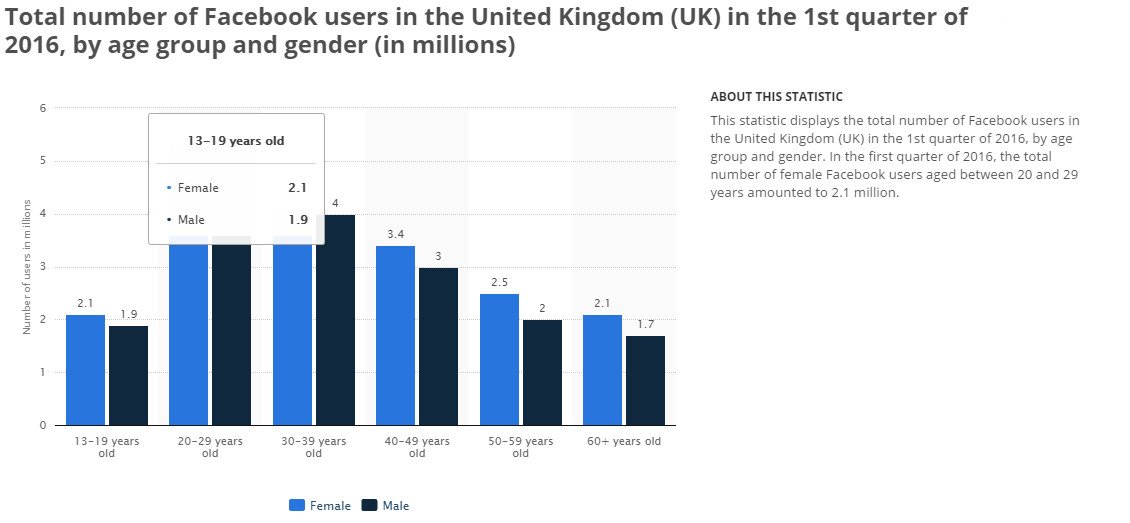 This means that even if your website isn't reaching a wide audience, you are still able to reach customers in your region.
Increasing Reach Organically on Facebook
Ok so you've set up your Facebook account but you currently have no likes and thus no one is going to see your posts or services.
There are 2 ways of increasing your reach on Facebook, organically (the free way) or via Facebook ads.
Organically, the best way initially increase reach is through your friends and family. Undoubtedly you yourself have a personal Facebook page. The best way to get the ball rolling in terms of reach and likes is to get your friends, family and colleagues to like and share your page to their news feeds.
In doing so, they will be sharing your business with their friends list and your business is suddenly being seen by hundreds if not thousands of people.
Daily Posts
Once you have that initial influx of likes from friends, family it is important then to post daily to your Facebook page.
Facebook doesn't like inactive accounts and posting daily will help keep your company fresh in people's minds as they see your posts in their news feed.
It is also important to keep the posts varied and interesting. If you are a local gardener and you only update your Facebook page with posts of completed gardening work, your posts aren't going to get a lot of engagement and only posting these types of statuses is going to get stale for the people that like your page.
Facebook loves engagement, the more people engage with your website, via likes, shares and comments, the more people Facebook will show your post to, so it is in your best interest to keep your posts varied, interesting and even funny.
Increasing Reach via Facebook Ads
Facebook ads are also a great way of increasing reach for your Facebook page and Facebook ads can be relatively inexpensive too.
Targeted Reach
The great thing about using Facebook to advertise your business is that you can be so specific with who your ad is shown to.
You are able to target people based on their:
Age
gender
job
location
interests
relationship status
and more
Say you are a gardener in Leeds and you want to set up an ad for your business. You can make it so your ads is only shown to:
Males and females, aged 30 – 55, living in Leeds, homeowners and with a Job.
If that is the audience most likely to require your services.
The best way to find the best audience for your ads, you can use the Facebook audience insight tool. With this tool you can input all kinds of different data and variables to find the ideal customer for you and your business.
Conclusion
If you are a small or local business with a small advertising budget, Facebook is absolutely a great way to promote your business.
Either organically or via paid ads, Facebook offers you a way to reach customers that otherwise wouldn't know about your services or products, either because no one has seen or heard of them before or because your website isn't ranking well on Google for your search terms.
Further Resources
How to set up a Facebook Business page – Facebook
5 ways to increase organic reach on Facebook – Search Engine Journal
The beginners guide to Facebook Advertising – Ad Espresso
Verifying your Business Facebook Page – Vision64
How to Find a Reputable Facebook Business Management Agency – Vision64
Are you looking for help with setting up a Facebook page for your business. Whether you want help with Facebook Advertising or with your Facebook page, we can help. Feel free to get in touch.

Alan Twigg

Tel: 0114 2999 259
E-mail: mail@vision64.co.uk
Contact Form
Worldwide, there are over 1.79 billion monthly active Facebook users, if this wasn't reason enough for your business to invest in a Facebook page, it is also a great way to promote yourself, especially for local businesses who may not have a big marketing budget.
So, how do I go about creating a page for my local business? let me talk you through it.
Choosing your Page Type
The first thing you need to do when creating a Facebook page for your small business is choose what type of business you are, the choices are;
Local Business or place – If your local business has a physical, bricks and mortar shop or a place where your customers do business with you or that represents the physical area in which you offer your services
Company, organisation or institution – If you own a E-Commerce shop or offer services through the internet, than this is the option for you
Brand or Product – if your page represents something that is sold through a variety of retailers than this is the option for you.
Artist, band or public figure – if your page represents an individual such as a politician or a celebrity (real or fictional) then choose this one.
Entertainment – if your page is related to books, magazines, movies, music or sports, but not individuals then this is the right option for you.
Cause or Community – If your page is a political movement or a charity page than this is the page for you.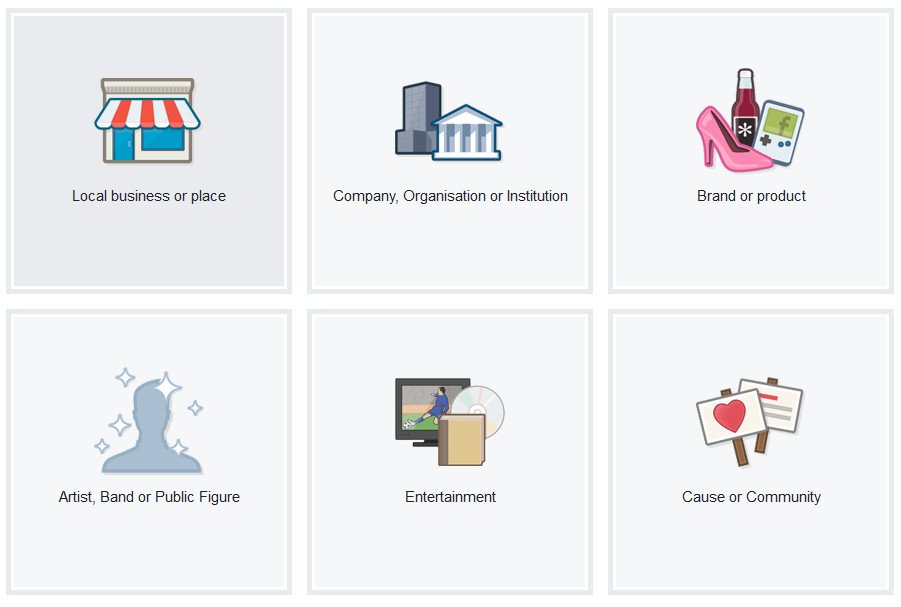 Choosing your Business Category
Once you have chosen your page type, it will then ask you to choose a category relating to your business. For example, If you are a salon specialising in eye lash extensions, then you will probably choose beauty.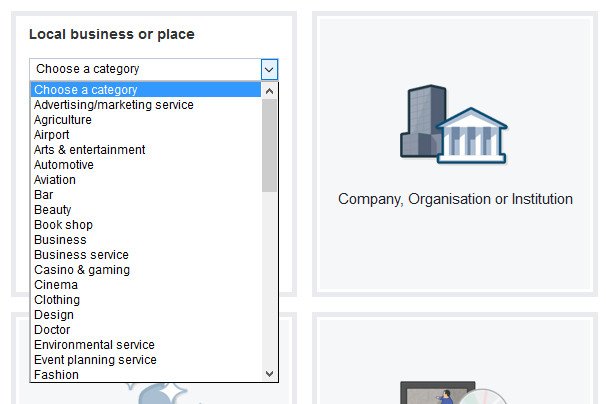 Setting up your Page
The first thing you need to do is fill out your "About" Info, the more information you put here the better.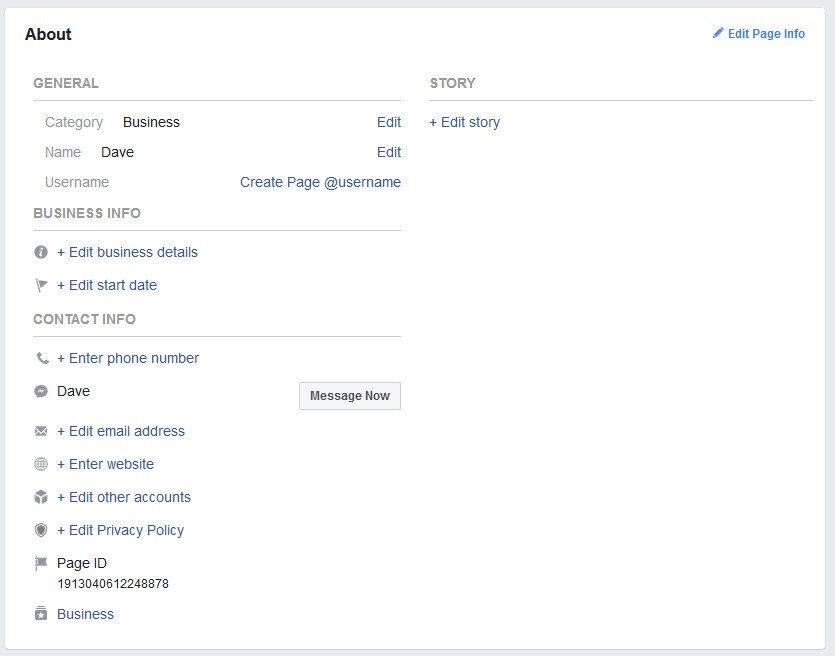 You can also create a username, this will modify your URL as well for example, if your business name was "Dave's boutique" and you used "daves-boutique" as your username, then your Facebook URL would be "facebook.com/daves-boutique"
Adding a Profile Picture and Cover Photo
The final step in creating the Facebook page for your local business is adding a profile picture and a cover photo.
Facebook Profile Picture
Your Page's profile picture:
Displays at 170×170 pixels on your Page on computers, 128×128 pixels on smartphones and 36×36 pixels on most feature phones
This will be cropped to fit a square
Facebook Cover Photo
Displays at 820 pixels wide by 312 pixels tall on your Page on computers and 640 pixels wide by 360 pixels tall on smartphones
Doesn't display on feature phones
Must be at least 399 pixels wide and 150 pixels tall
Loads fastest as an sRGB JPG file that's 851 pixels wide, 315 pixels tall and less than 100 kilobytes
Further Resources
Verifying your Business Facebook Page – Vision64
How to Find a Reputable Facebook Business Management Agency – Vision64
How to Find a Reputable Social Media Management Company – Vision64
Are you looking for help with setting up a Facebook page for your business. Whether you want help with Facebook Advertising or with your Facebook page, we can help. Feel free to get in touch.

Alan Twigg

Tel: 0114 2999 259
E-mail: mail@vision64.co.uk
Contact Form
There are many ways to advertise and promote your local business on Facebook and although this article will focus mainly on the paid aspect of advertising on Facebook, there are plenty of ways to promote your small business without spending money on ads, which we will likely cover in a future article.
Unfortunately, there will be a bit of setup required before you can delve into the world of Facebook advertising, I won't go into great detail on how to setup everything in this article as most of the required information is on Facebook but I will link out to those resources below.
Setting up a Business Manager
First thing you'll need to do is set up a business manager for your local business page, you can find out to do that in the following article:
Set up People, Pages & Ad Accounts in Business Manager
Setting up an Ad Account
After setting up your business manager, you'll need to add an ad account so you can start creating ads for your local business, you can find out how to do this here:
How do I add an ad account to my Business Manager?
Setting up a Pixel
If you are creating ads that link out to your business website or E commerce shop, it is a good idea to set up a Facebook pixel on your website before you start running ads.
What is a Facebook Pixel?
Briefly, a Facebook pixel is "is a piece of JavaScript code for your website that enables you to measure, optimize and build audiences for your ad campaigns". It measures users that click on your ad on Facebook and end up on your website, it allows you to things like;
Re target ads to people who showed interest in your product but didn't purchase anything.
Create lookalike audiences – target people with similar interests, characteristics of those who showed interest in your product or service
Run dynamic product ads. Create relevant and timely ads on Facebook based on the products people have visited on your website.
Access Audience Insights. Get rich insights about the people who visit your website.
How to Setup a Facebook Pixel on my Website?
Creating a pixel and installing it on your website is fairly simple, all the information you need to guide you through the process can be found here:
Creating your Ads
Once you have your business manager, ad account and pixel setup, you are ready to create your first Facebook ad.
Once you click on create ad you will be faced with this screen;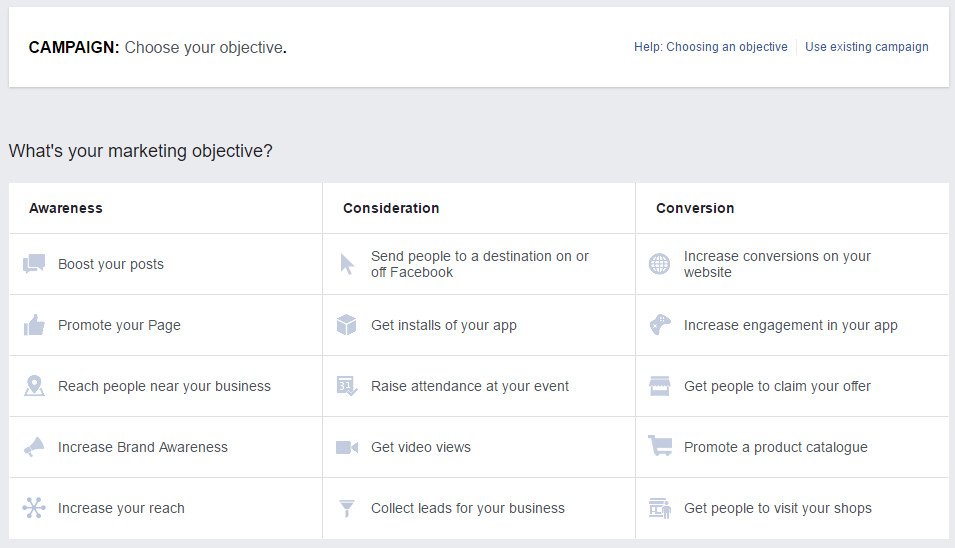 What goal are you trying to achieve with your ad? This is the question you have to ask yourself when selecting your ad type.
If you want to get more exposure to your Facebook page, you would choose "promote your page" or if you want to direct people to your website, you would choose "increase conversions on your website".
Once you've selected your marketing objective, you can create your ad.
Creating your Ad
In this example, I have chosen to "increase conversion on your website" in a bid to make some sales for my imaginary "Wedding dress" company.
Conversions
In this box, you would select the Facebook pixel you created earlier to track all the people that click through onto your website from the Facebook ad.

Audience
This is where you put in the information of your perfect customer, the characteristics that make up the person that you think would be willing to make a purchase.
If you imagine I am creating an ad for my "wedding dress" company based in Sheffield, my perfect customer would likely be:
A resident of Sheffield
Age 25 – 45
Female
Relationship Status – Engaged
Interests – weddings
Additional interest – brides (magazine)
You can really refine the characteristic of your "perfect customer" using the "audience insight tool" but more on that in another post.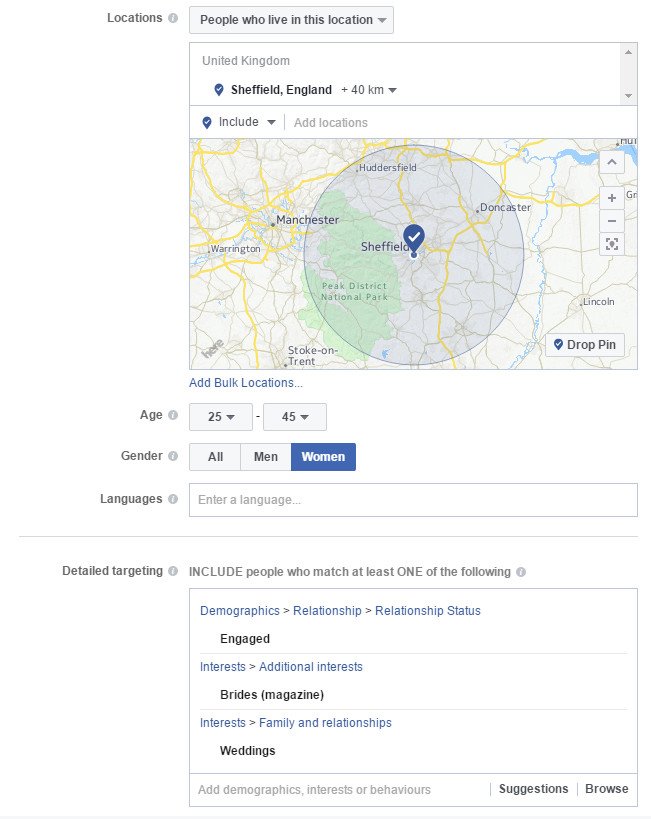 So using the following information, this will give the following ad reach;

Budget and Schedule
Here you can set the budget for your ad campaign. Typically, the more money you spend, the more reach you're going to have but if you are just starting out, i would recommend a smaller budget until you get a feel of what kind of ads work for your customer base.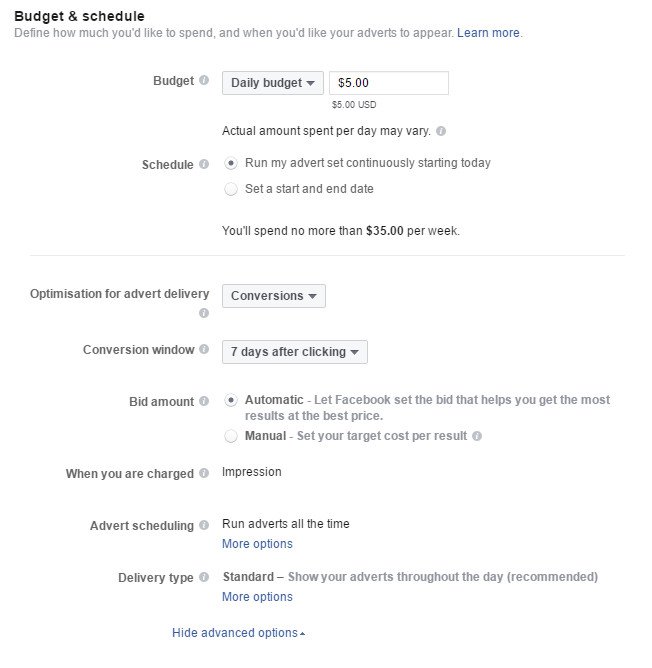 Designing your Facebook Ad
Here you can design the layout, look and feel of your ad;
Under Images, you can use your own picture for your ad if you have one in mind or you can choose "free stock images" and browse thousands of pictures related to your niche. You can also use a video, if you so wish.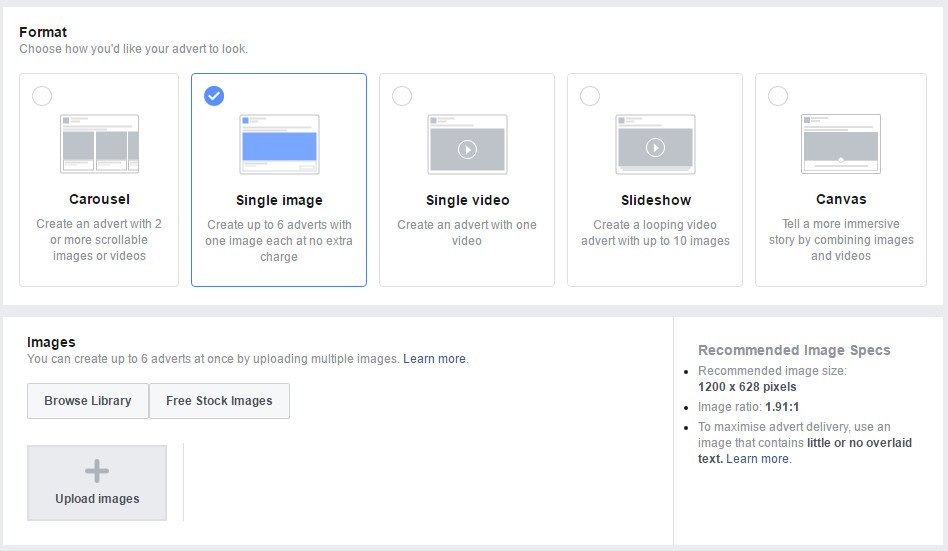 Lastly, you need to think about what your ad is going to say. What can you write here that will get your targeted audience on Facebook to click on your ad and make a purchase. Once you have your text and picture sorted out, click on "place order" and watch the conversions roll in.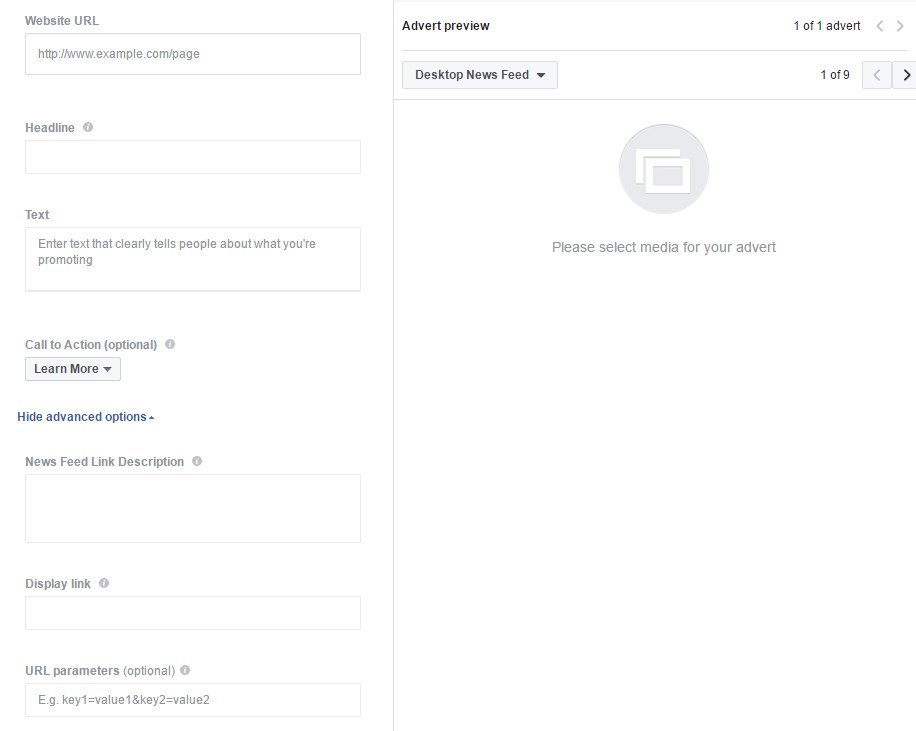 Further Resources
Verifying your Business Facebook Page – Vision64
How to Find a Reputable Facebook Business Management Agency – Vision64
How to Find a Reputable Social Media Management Company – Vision64
Are you looking for help with setting up a Facebook page for your business. Whether you want help with Facebook Advertising or with your Facebook page, we can help. Feel free to get in touch.

Alan Twigg

Tel: 0114 2999 259
E-mail: mail@vision64.co.uk
Contact Form
Social media isn't just a fad or trend, in 2016 2.3 billion people worldwide engaged with some form of social media which represents thirty-one per cent of the world's population.
Any company, large or small, that's interested in improving their brand recognition and bringing in new customers and opportunities needs to be looking at the power of social media and Facebook.
Below you can find some of the articles that we've written about Facebook and social media in general.
Social media is now the most effective way to market your business to potential customers. A successful Facebook page can make all the difference to your success or failure as a company, but what are the benefits of having a Facebook page and how do you find a Facebook management company that will help your business soar to new heights?
How Does a Facebook Page Differ from a Personal Profile or Group?
Most people are familiar with a personal Facebook profile, which is aimed mainly at helping them interact with their friends. But a Facebook page has a very specific purpose. A Facebook page is the official 'shop window' of a business, intended to explain exactly what the company is, and about the products or services they offer. Unlike a personal profile, a Facebook page is public by default, meaning that anyone on the internet can access it.
A Facebook group has yet another function – to let like-minded people interact and share experiences. Anyone can set up a Facebook group, whereas a Facebook page is set up and run by the company in question.
Why does my Business Need a Facebook Page?
The Advantages of Having a Facebook Page
Having a Facebook page lets your company do many of the things that previously could only be done through traditional advertising.
Increased Exposure to Potential Customers
With around 1.65 billion active users every month, a Facebook page has the potential to put your business before far more people than you could ever hope to reach by other means. Every day, over 1 billion users log on, and spend an average of 20 minutes on the site, so your page could potentially have tens of thousands of visits daily.
The main proportion of Facebook users are between 35 and 54 years old and the fastest growing audience are those over 55 years old.
Reach a Targeted Audience
However, although you may have access to billions of users, not all will fall within your target market. Smart advertising is the key here. You must connect with people who have a genuine interest in what you're offering.
Facebook is the ideal marketing solution because it collects a wealth of data on its users, letting you place your company before the right people. For example, there's no point trying to market your top-of-the-range child car seat to young single men with a sleek sports car!
Facebook allows you to specify exactly where to target your adverts for maximum effect.
Which Demographics Can you Target on Facebook?
Facebook offers fantastic versatility when it comes to identifying and targeting your unique audience. You can target users by:
Location
Age
Gender
Interests
Connections
Relationship status
Languages
Education
Workplace
Making use of this capability allows you to take advantage of the skills, situations and interests of your audience, so you can publicise your business to an audience most likely to be interested in what you are offering.
How Does Facebook let you Specify your Target Audience?
Have you ever noticed how you see an advert on your Facebook feed for something you'd been browsing earlier, such as a book on Amazon? That's not coincidence! This targeted marketing is made possible by the inclusion of a nifty snippet of code installed on the website you visited.
The Facebook Pixel
A Facebook pixel can be installed on your company website to record who's visited your pages, then targeting adverts specifically to them when they visit Facebook.
What Exactly is a Facebook Pixel?
Facebook defines a Facebook pixel as 'a piece of JavaScript code for your website that enables you to measure, optimize and build audiences for your ad campaigns.' Facebook also states that 'using the Facebook pixel, you can leverage the actions people take on your website across devices to inform more effective Facebook advertising campaigns.'
What Does a Facebook Pixel Track?
A Facebook pixel tracks customer behaviour in a number of ways, so you can build your marketing campaign around the most popular actions.
1. Measure cross-device conversions
Nowadays, customers expect a seamless synchronicity between all their devices. A Facebook pixel tracks this, and inform you about such movements before they make a purchase. Monitoring trends allows you to target your marketing more effectively.
2. Optimise delivery to people likely to take action
Your marketing should be aimed towards those most likely to take action. A Facebook pixel lets you see who is most likely to respond to your advert, avoiding wasted revenue on targeting unlikely customers.
3. Automatically build audiences for website visitors to retarget
A Facebook pixel also monitors a wide range of audience behaviours, giving you rich information about their likely potential as a future customer. For example, it lets you target people who've visited a particular product page, placed an item in their shopping cart, or made a purchase. You can build a custom audience for your adverts.
4. Create 'look-alike' audiences
It's also sensible to target your campaign towards new contacts who share a similar profile to your successful results. A Facebook pixel allows you to reach a 'look-alike' audience to increase the likelihood of customer engagement.
5. Run dynamic product ads
There's little point running an 'all singing all dancing' ad if it's not going to hit the sweet spot with your customers. A pixel lets you create 'relevant and timely' ads with confidence.
6. Access audience Insights
You can also drill down into your data to gain deep insights into the profile of your successful customers., ensuring you're not wasting your efforts.
Further Advantages of a Facebook Page
But having a Facebook page is about much more than installing a pixel on your website. There are many other advantages.
Cost-Effective Marketing
Traditional media advertising is costly affair. Running a large-scale marketing campaign through traditional means could cost you hundreds of thousands of dollars. But it's free to set up a Facebook page, and marketing through targeted ads is much cheaper than other methods.
This makes Facebook advertising a great choice for entrepreneurs and small businesses, who are operating on a shoestring. You can set your own budget and initialise your campaign quickly and easily.
Disseminate Information About your Business
Your Facebook page can carry the same information that you display on your website, including your business name, postal address and contact details. You can also include other relevant and interesting information, such as information about product and services, staff bios, and company history.
You can advertise special events like a flash sale or competition. It's also a great way to spread the impact of your corporate branding and make your company identity instantly recognisable to new and existing customers.
Share Pictures and Upload Videos
Facebook goes far beyond traditional media advertising. You can upload photos and video to bring your company and its services alive. For example, a demonstration of a product in use will save your customers from needing to visit a bricks and mortar store to see it in action.
Communicate with Potential and Existing Customers
Facebook allows you instant communication with your current customers and potential new clients. You can post information about your company in real time, ask questions to help you serve your customers better, and offer helpful advice about choosing your products or services.
However, it pays to tread carefully here. Aim to build a positive relationship with your readers, going that extra mile to help them feel valued and keep them coming back for more, rather than a constant 'hard sell' approach.
Offer Immediate Customer Support
Customers want their problems sorted immediately, and your Facebook page gives them the ideal way to communicate with you without delay. Staff can deal with matters promptly and efficiently.
This will strengthen your customers' faith in your business and seal your reputation as a company that wants to make communication easier. It also provides answers for other customers who might be experiencing the same problem or be pondering the same question.
Raise Brand Awareness and Spread the Word
People place far more emphasis on a 'word-of-mouth' recommendation than on any advert, however engaging that advert might be. Encouraging people to visit and 'Like' your page is the first step in getting your company noticed and increasing brand awareness.
Customers who 'Like' your page will see updates on their news feed, which will also be seen by their friends. When they comment and engage with you, their friends will see that too, which raises your profile even higher. Research shows that we are more likely to trust a brand if it's personally recommended, so when people see their friends engaging with you and sharing their experiences on your page, it will encourage their friends to engage too.
Why Outsource your Facebook Management to an Agency?
But like any other business activity, this takes time and expertise. A poorly managed page can actually do more harm than good. You should be focusing on growing your business, so you may not have the time and skill to maintain a high-quality presence on your page. So how do you ensure your company is still properly represented on Facebook? The answer is: outsource your Facebook management. There are many reasons why this makes excellent business sense.
Expertise
Expertise in marketing and in managing social media is critical to making your Facebook page work for you. Hiring a business management company to handle your page lets you relax and get on with running your company, while they grow your reputation using their professional staff.
An expert at running a Facebook page knows how to do things quickly and efficiently for the best possible result. They have already learned from their past mistakes, so they'll know the best way to handle your page, thus saving you time and money in the long run.
Time
Running your own business takes a huge amount of time and energy. You're constantly thinking about how to keep the current show on the road, while looking for inventive and innovative ways to develop your company even further.
But keeping on top of customer interaction and publishing regular updates about your operations takes a significant amount of time. So why spend your precious working hours dealing with this, when it's not your area of expertise, and you have so much else to do? Time is money, so letting the specialists handle things makes good sense for your business and for your mental well-being.
Money
Your role is to be laser-focused on what best benefits your business and increase your profits. Any time you spend on peripherals (such as managing social media), takes your attention away from this core purpose, which is not the most cost-effective approach to growing your business.
Hiring an in-house team doesn't come cheap either. Salaries and training could end up costing you more to maintain than outsourcing to a reputable company.
Outsourcing your Facebook management is a cost-effective way to release you and your staff to work efficiently on your concerns, whilst expert social media management services focus on developing brand awareness and increasing your sales. However, it's important to consider the potential pitfalls entrusting your marketing to a management company. In particular, you should ensure you keep overall control of your content creation – after all, you know your business best.
Control your Content
In-house staff, or regular freelance writers who know your company inside out, are best placed to create content that publicises your brand best. They will also know how to craft copy that is perfectly tailored for your audience.
Left to their own devices, some management companies will produce generic content that may have superficial appeal, but doesn't truly get under the skin of your company and promote its unique aspects and benefits.
What will a Facebook Management Agency Do?
Set up your Account
The first priority of a Facebook management company will be to set up your Facebook account or to ensure that any existing account is in tip-top condition. A harmonised approached to your company branding across your website and Facebook presence is essential, so they will check that everything matches up and projects your brand effectively.
This could include actions such as: Adding or designing an eye-catching cover photo for the business timeline
Adding or designing a relevant profile picture that displays your logo prominently
Filling out all the relevant information on your Facebook page including details such as company description, services you offer, business hours, and contact information
Adding new tabs to your account e.g. a sales page, checkout page etc.
Setting up your audiences and target demographics
Run a 'Like' Campaign
Once all the essential elements are in place, the company will then make a concerted effort to sign up more users to your page. The most effective way to do this is by running a 'Like' campaign.
Promoting your page, and encouraging others to do the same on their feed, will spread the word about what you have to offer. The more you appear in your customers' feeds, the more likely you are to gain new customers.
A well-run 'Like' campaign is effectively an advert aimed at your specific target demographic, increasing the likelihood of a successful interaction.
Begin Posting Content
Superb, carefully crafted, and unique content is the critical component of a successful marketing campaign, so your management company will be aiming to get this on your page as soon as possible. There's no point attracting people to 'Like' your page if they then lose interest because of poor or intermittent content.
Ideally, your company should be posting once or twice a day. However, these shouldn't be overly promotional in nature. They should include useful information, humorous posts, and posts to increase engagement, all of which serve to build an ongoing relationship with your clients rather than simply focus on 'selling' to them.
Provide a Weekly Report
A reputable company will keep you intimately informed about the progress of your campaign. A weekly report should include essential data such as how much you've spent, the number of new 'Likes', and overall engagement metrics. This will help them (and you), see how which actions have been most effective, and allow the ongoing campaign to be tailored more specifically to actions which really work.
The beauty of a Facebook campaign is its immediacy – it's simple to track analytics and change track on a very regular basis, unlike a more traditional marketing campaign where you don't get the metrics until sometime after the event.
How Much will a Management Agency Typically Charge?
No doubt you'll be wondering how much a good management agency will cost. Naturally, every company is different and every campaign is unique, but it is possible to get an overall feel for how much it will cost to hire a reputable business management company. Taking a look at some typical package costs will give you a broad idea of the costs involved.
Get Manic
Get Manic offers a choice of three packages, each aimed at a particular kind of company.
Social Media Bronze: £300 to set up Facebook, Twitter and Google Plus, with 100 guaranteed targeted new like. Ideal for sole traders and small businesses
Social Media Silver:£300 for the initial set-up, then £150 per month for an additional guaranteed 50 targeted likes, 2 Facebook posts and 3 Twitter tweets per week. Best for small-to-medium enterprises
Social Media Gold: £300 for initial set-up, then £250 per month for an additional guaranteed 100 targeted likes, 4 Facebook posts and 5 Twitter tweets per week. Perfect for larger companies seeking a high level of social media engagement
Yogurt Top Marketing
Yogurt top Marketing charges an initial set-up fee of £350 to optimise your social media presence and devise the best ongoing strategy. It then charges £250 per month on a rolling contract.
Additional services include:
Complete branding package (including logo design and brand guidelines) – £495
3-day social media and branding workshop – from £95 per person
1-day social media workshop – from £75 per person
Bespoke one-off social media strategy – £495
All prices subject to price plus VAT.
How do I Find a Reputable Facebook Management Company?
Choosing a good Facebook management company is critical to your social media success, but sadly there are some less-than-reputable companies out there. So which aspects should you consider when looking for a trustworthy operation?
Reputation
Start by finding out which companies have the best reputation for your type of business. You may find some management companies specialise in your niche, so they'll have plenty of expertise to bring to the table when crafting your campaign. Look for independent reviews, or ask your colleagues for a recommendation – often word-of-mouth is the strongest evidence of a company's reputation.
References
Don't just rely on what people tell you – ask for references from satisfied customers. A good management company will be able to put you in touch with past customers or provide written references for you to check. And of course, taking a look at these customers' Facebook pages will give you a good feel for how well the company manages their business.
Get Quotes
A trustworthy management company will be able to give you reliable and itemised quote, based on what you need for your business. You should be able to see precisely which services they will provide and exactly how much that will cost.
Talk
Lastly, a reliable Facebook management company will make time to discuss your individual needs and wants carefully, rather than merely offering a cookie-cutter service. If you feel they're not interested in providing a bespoke service tailored to your individual needs, move on and find a company that is.
Conclusion
Well-targeted marketing is the oxygen your business needs to really catch fire and move up. Choosing a reputable Facebook management company is critical to this, so take the time to consider every aspect carefully before parting with your hard-earned cash. A little time and effort will go a long way towards ensuring your eventual success.
Further Reading
Are you looking for help with setting up a Facebook page for your business. Whether you want help with Facebook Advertising or with your Facebook page, we can help. Feel free to get in touch.

Alan Twigg

Tel: 0114 2999 259
E-mail: mail@vision64.co.uk
Contact Form