The way we search and digest information is changing, when we want to search for information we are no longer tied down to desk tops or clunky laptops, as everyone has a phone sized laptop in their pocket.
In fact, according to Google mobile web stats;
There are now trillions of searches on Google.com and over half of those searches happen on smart phones.
Nearly one third of all mobile searches on Google are related to location.
Location-related mobile searches are growing 50% faster than mobile searches in general.
More than half of all web traffic for the millions of website owners using Google Analytics now comes from smart phones and tablets.
Since Ad Words store visits were introduced two years ago, advertisers have measured over 1 billion store visits worldwide.
In the two years advertisers have had access to Google AdWords store visits, they've measured over 1 billion store visits globally.
Google, having access to large swathes of data, have realised this and have revamped some features on its local search ads.
What Do You Need to Know About the New Google Maps Local Search Ads?
How are they changing?
The new Google map ads are designed to help small business be more visible when someone searches for something on the move with a mobile, for somewhere to eat, shop or get a haircut for example.
These new features include:
Promoted pins
in store promotions
customisable business pages
Local inventory search
What Will the Ads Look Like?
Mobile – Google Search
When users search for nearby businesses on Google.com, your business location may be featured at the top of the local results.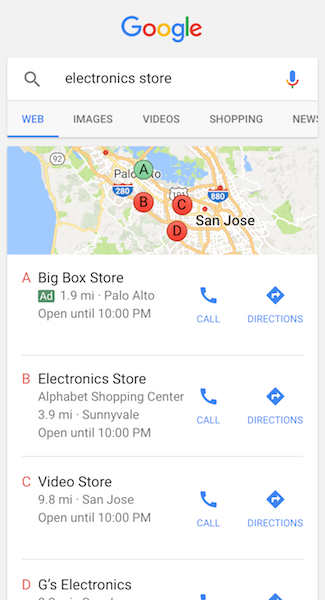 Mobile – Google Maps App
It will look similar when using the Google Maps App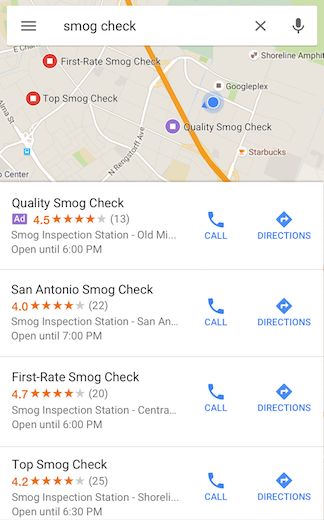 New features – Promoted Pins
Unlike the ads shown above, the promoted pin will actually appear on the map itself when searching for something on Google maps or Google search.
It will help you business to stand out with the rest of the pins by being a different colour and you are also able to include any in store promotions or offer you may currently be running.
This feature is especially useful if your small business or restaurant is off the beaten track and is easily missed by potential customers.
Here is what a promoted pin will look like: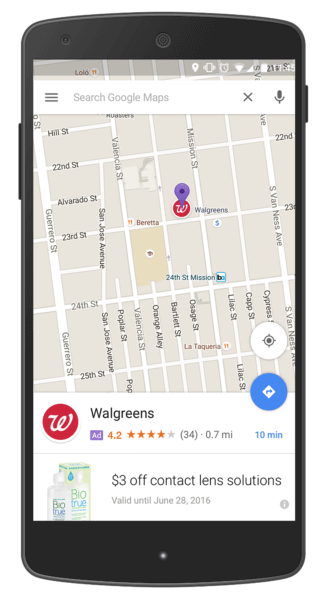 How Much Does it Cost?
According to Google, You'll be charged a standard cost-per-click (CPC) for these types of clicks on local search ads:
Get location detail clicks
Get direction clicks
Mobile click-to-call clicks
Website clicks
How Can I Start Displaying Google Map Ads
In order to allow Google maps to start showing your ads, you have to;
Enable location extensions for your AdWords account.
Set up or update your Google My Business listing
Use location targeting and bid by location
Optimise your keywords
You can find out more about how to Show local search ads on Google Maps on their support page.
Further Resources
10 Things You Need to Know About the New Google Maps Local Search Ads – Word Stream
Excited about Google's new map ads? You should be! – Search Engine Land
How to Succeed With AdWords New Local Search Ads – Search Engine Journal
Why Use Local SEO? – Vision64
4 Misconceptions Small Business Owners Have When it Comes to SEO – Vision64
Does My Local Business Need SEO Services? – Vision64
Have you had enough of not attracting visitors to your website and fed up with lack of sales? We can help. I've helped hundreds of companies over the past 20 years acheive their goals. Feel free to call or contact me to talk it over.

Alan Twigg

Tel (UK): 0114 2999 259
E-mail: mail@vision64.co.uk
Contact Form