How Much Does Local SEO Cost?
Like any ongoing service, when people ask the question How much does this service cost? Invariably the answer will come back "it depends".
Generally speaking however, local SEO as a whole is a lot cheaper than the national SEO campaigns of medium to bigger sized companies.
The reason being that local search-engine-optimisation campaigns are easier to optimise for due to the localisation of the business. This means that the keywords your business is trying to rank for have a lot less competition than the broader keywords of a national campaign.
For example, the more localised keywords "Plumber Sheffield" or "Plumbers in Sheffield" are a lot less competitive and easier to rank for on Google than more broader keywords such as "Plumber" or "Plumber UK" would be.
So, what does the price of SEO depend on and how does that differ in a local SEO campaign?
The Number of Pages on Your Website
When it comes to SEO, the smaller the website, the easier it will be to optimise. This is because bigger websites not only have lots more pages to optimise and possibly change, they also often have architectural complexities that smaller sites won't have. Often the difference between optimising smaller and larger sites can be thousands of pounds.
What Does this Mean in Terms of Local SEO?
Generally speaking, local businesses tend to have small websites with only a handful of pages, so the price of optimising a local businesses website shouldn't fluctuate as much as that of optimising a large ecommerce site for example.
The Condition of your Website
The condition of your website also plays a big role in the price of your SEO, the more things that need fixing, the more expensive your SEO is going to become. Generally speaking the larger your website the higher chance your site will be in a non-optimisable condition, but not always.
What Does this Mean in Terms of Local SEO?
Unfortunately, although smaller websites are often easier to optimise, sometimes they require a complete re development before an effective SEO campaign can commence.
Often, small or local businesses will opt to use "free website builders" offered by website hosting companies such as; Wix or 1 and 1.
Using such services make SEO very difficult for example, the free website builder Wix won't allow you to:
Choose your page names (URLs)
Redirect one old page to a new page in the same Wix site
Create duplicate pages or duplicate test sites
Move your site from Wix without losing SEO juice
In this case, it is often much easier to completely redesign the website on a SEO friendly CMS than try and work with the limitations of Wix.
You can read more about the limitations of Wix on: Why Web Designers Won't Touch Wix: SEO
On Going Services
Although many of the initial services offered by a reputable SEO companies will be done and put under the completed category, there are many services that will be ongoing throughout the entire length of the SEO contract.
Ongoing services will be things like:
Content publication
Link building
Data analysis
Page optimisation
So if you are thinking about undergoing a SEO campaign, you should be prepared to have a ongoing monthly spend on your SEO services.
What Ongoing Services Do SEOs Spend the Most Time on?
In October last year, Search Engine Journal asked 65 of the "top SEOS" how they "spend their time, their biggest challenges, their top priorities and their vision for the future" and here are the results.
Where is the Majority of Your Time Spent?
More than 25% of SEO marketers say the majority of their work hours are spent on technical and onsite SEO projects.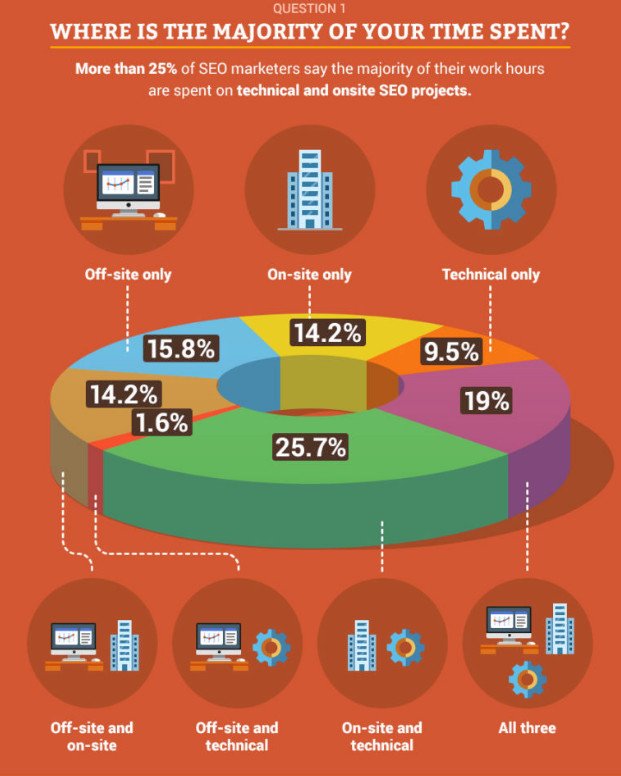 With 15.8% of those asked concentrating on off-site only, 14.2% of those asked concentrating on on-site only and 19% of those asked concentrating on all three.
What SEO Tasks Do You Spend the Most of Your Day Working On?
SEO marketers agreed that content creation is by far the most labour intensive task with 72% of people surveyed saying they spent most of their time creating content.
Content relating tasks including;
Keyword research
creating content
building relevant backlinks
editing meta data
mobile optimisation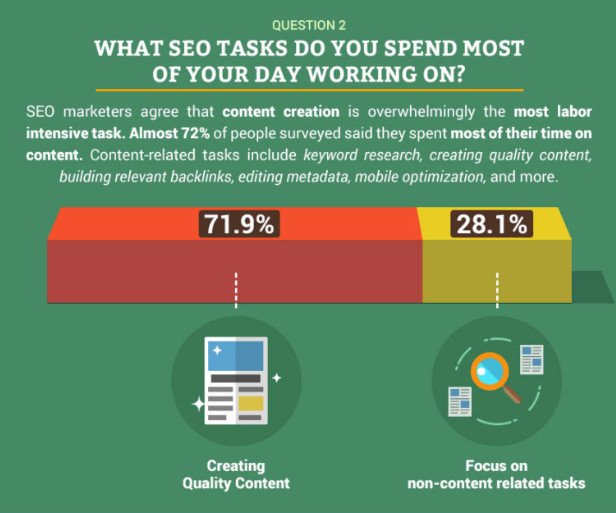 What are Your Biggest SEO Challenges Right Now?
28.5% of those asked revealed that building relevant backlinks is the hardest to achieve part of SEO success with 17.9% of those asked saying that both data analysis and mobile optimisation is the hardest.

You can view the study and info graphic on Search Engine Journal.
Different Pay Models of SEO Companies
Every SEO company is different and will have different approaches when it comes to pricing local SEO, here are some of the payment models that SEO companies tend to adopt.
Monthly Retainer
Pay per rank
Pay per visibility
You can find more about the different payment models in our article: How to find a reputable SEO company.
Vision64's Local SEO Payment Model
Here at Vision64, we adopt a Pay for results pricing model, we are so confident of our ability to rank your website for the keywords important to your business that we won't charge you unless you start seeing results.
Find out more about our Local SEO Services.
Further Resources