Italian Lighting Centre Ltd

"I just wanted to write you a note to thank you for the services you have provided for my company over the last 7 years. I must admit that when we started working with you, SEO was a relatively easy game, however as the years have advanced, so had the Google algorithm! I am really grateful that we are in your capable hands.
SEO has become such a complex job now that I honestly can't understand how you stay ahead of the curve. However, you keep delivering great results. long after many of your competitors have thrown in the towel, and become PPC "experts", or whatever new shiny opportunity comes their way! Thanks again for taking care of out sites."
Carl Mallory, Managing Director
Website: italian-lighting-centre.co.uk
Gebrüder Ott Betonwerke GmbH & Co. KG

"Seit Oktober 2008 arbeiten wir nun schon mit der Vision 64 zusammen. Für mich war es wichtig einen Optimierer für das Internet-Ranking zu haben, der in nur 10 Kilometer Entfernung seinen Firmensitz hat und die junge Mannschaft mit der Nutzung des Internets aufgewachsen ist. Klassische Printwerbung machen wir seit Jahrzehnten, aber der Trend auch in unserer Branche ist das Internet. Wir haben schon große Erfolge mit den Herren Matt und Twigg verbuchen können.

Die Mannschaft von Vision 64 hat immer wieder neue Wege eingeschlagen und so bin ich heute sehr zufrieden, keine Experimente gemacht zu haben. Wir schauen vertrauensvoll gemeinsam nach vorn."
Jürgen Baumgärtner, Owner
Website: ott-garagen.de
Stay Home Stairlifts Ltd

"We have worked with Vision64 for several years. Having started off with very low rankings we rapidly rose up the pages and we have had very high rankings for the vast majority of our time working with Vision64. The increased lead volume has had a high conversion rate. The working relationship has been good with Vision64 explaining to us what they are working on and quietly getting on with it. We agree any changes to content together and this is controlled by us. Vision64 are highly professional and I would recommend them."
Ed Putnam, Managing Director
Website: stayhomestairlifts.co.uk
die webversteher GmbH & Co KG

"Wir arbeiten seit knapp zehn Jahren mit Vision64 bei vielen Kundenprojekten zusammen. Sowohl die Zusammenarbeit, die Beratungen und Empfehlungen sowie die eigentlichen SEO Leistungen sind sehr gut auf den jeweiligen Kunden abgestimmt. Die Abwicklung klappt sehr gut, wenn Alan und Uwe die Optimierungen auf den Seiten und Shops direkt umsetzen und auch wenn wir als Webmaster Listen mit durchzuführenden OnPage Optimierungen bekommen." Wir freuen uns auf die weitere Zusammenarbeit!
Jörg Hehl, Owner
Website: webversteher.de
LSM Builders

"As a small business I found it very difficult to get any kind of Google presence for my website. It was taking up a lot of my time and energy and i was spending a fortune on Google Ads to drive traffic to my site. I started to look into SEO and came across Alan and his team, I got in-touch, discussed my target keywords and what i wanted to accomplish with the site, they came back at me with a very reasonable offer, timescale and guarantee (I had nothing to lose). Sure enough they completed the goal, within the timescale for the agreed monthly cost, they got my website on the first page of google for my target keyword and it has remained on the first page of google ever since. I can not overstate how valuable their service has been to growing my business! we now get far more inquiries than we are able to handle and it feels as though the website is actually bigger than the business. Alan is also a very approachable guy, we have had some great discussions regarding the business/strategy/growth and he has shared some valuable advice. Great service and great team."
Liam Revill, Owner
Website: lsmbuilders.co.uk

Bull & Bear AG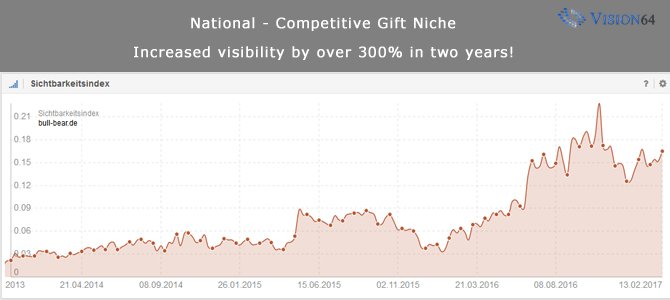 "Vision64 hat schon nach wenigen Monaten den SEO-Wert unserer Homepage signifikant steigern können. Auch beim Relaunch unseres Online-Shops sind wichtige Elemente aus der Analyse von Vision64 umgesetzt worden. "
Rolf Rilling, Vorstandsvorsitzender der Bull & Bear AG
Website: bull-bear.de

Turiya Yoga Pvt. Ltd
We have had a few bad experiences with internet marketeers before we've came across Vision64. Although we've been optimizing our website with them for just a couple of months we can surely say they are highly professional, ethical and have an in depth knowledge of the service they provide. We are very pleased with their efficiency and integrity as well as their ability to make steps, choices and decisions clear for us.
Manu and Suzana, Owners
Website: turiyayoga.com
Instyle Productions GmbH

"Wir arbeiten bereits seit einigen Jahren erfolgreich mit Vision64 zusammen und können nur in den höchsten Tönen sprechen, wenn wir ein Resümee der gemeinsamen Erfolge im Bereich Suchmaschinenoptimierung ziehen. Herr Twigg und Herr Matt sind ein eingespieltes Team und jeder der beiden ist absoluter Profi auf seinem Gebiet! Unsere Website www.instyle-models.com rankt – trotz sehr starker Konkurrenz – unter den ersten Plätzen auf Google. Und das langfristig seit mehreren Jahren. Gerade sind wir im Begriff gemeinsam eine neue Website zu strukturieren und diese optimal für die SEO-Arbeit vorzubereiten und freuen uns schon auf die weitere Zusammenarbeit mit diesem angenehmen und effizienten Team."

Valentin Wiedling (Projektleitung, Instyle Productions GmbH)
Website: instyle-models.com
Internet Influence Ltd

I've worked with Alan and his team for a number years now and find them excellent. Both easy to work with and produce excellent results.
Alex Dutton, Owner
Website: internet-influence.co.uk